Local Trade Copiers for Risk Management: Safeguarding Your Investments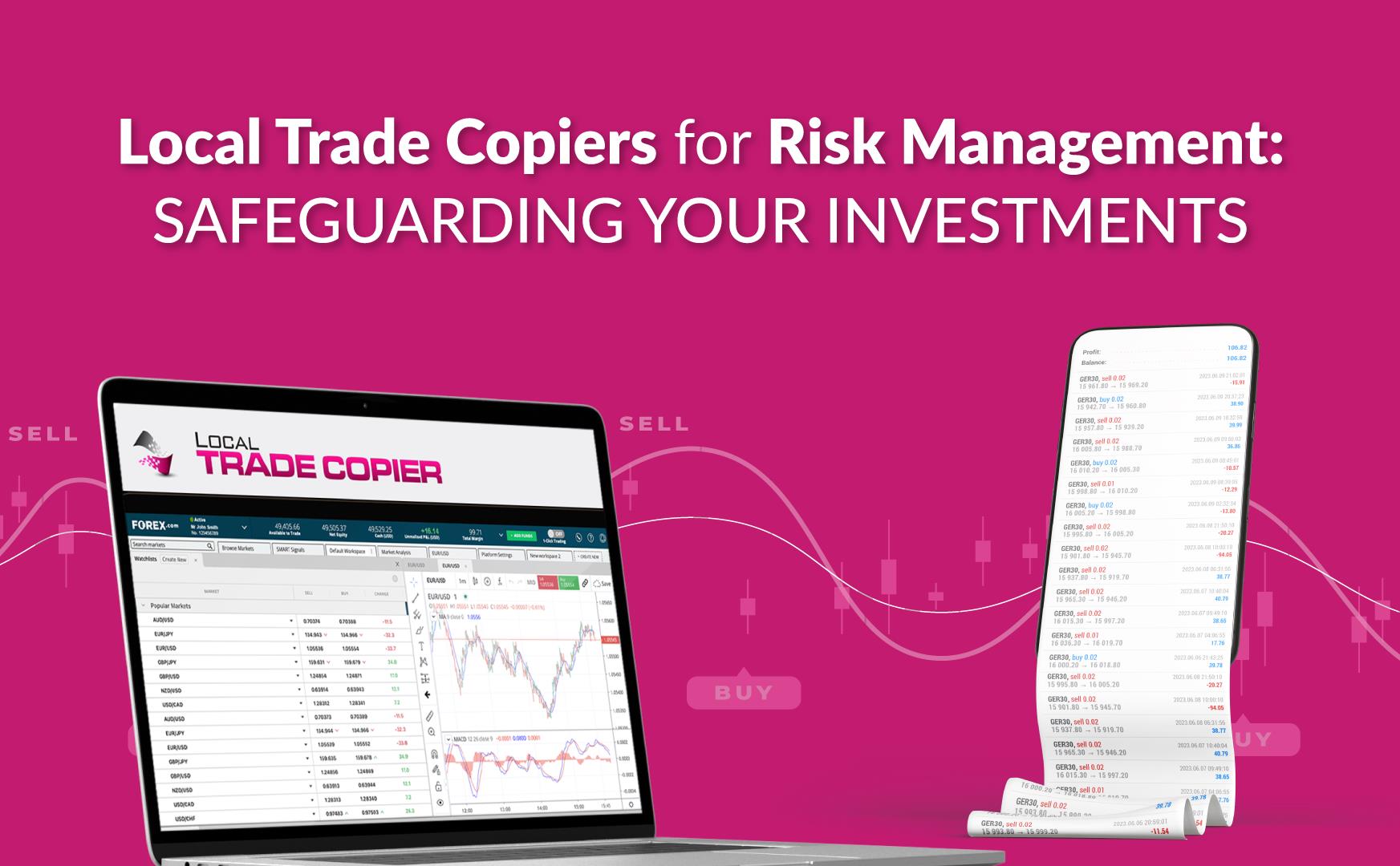 In the ever-evolving world of finance and investment, safeguarding your hard-earned money is of paramount importance. With markets being as unpredictable as they are, the need for robust risk management tools has never been greater. This is where Local Trade Copiers come into play, offering investors a powerful solution to protect their investments and optimize their trading strategies.
Understanding Local Trade Copiers
Before delving into the role of Local Trade Copiers in risk management, it's essential to understand what they are. In simple terms, Local Trade Copiers are software solutions that allow traders to duplicate trading activities from one account (usually a master account) to another (the slave account) in real-time. This technology has gained immense popularity among traders, whether they are beginners or seasoned professionals, due to its effectiveness in managing risk.
Mitigating Risk with Local Trade Copiers
1. Diversification of Investments
One of the fundamental principles of risk management is diversification. Spreading your investments across different assets and markets can help reduce the overall risk of your portfolio. Local Trade Copiers facilitate diversification by allowing you to copy trades from multiple master accounts into a single slave account. This means you can access various trading strategies and asset classes simultaneously, mitigating the risk associated with a single investment.
2. Real-Time Risk Assessment
Effective risk management requires constant monitoring and adjustment of your trading positions. Local Trade Copiers provide real-time data synchronization between master and slave accounts. This means that as soon as a trade is executed on the master account, it is replicated on the slave account without delay. Traders can use this real-time data to assess the risk associated with their positions and make necessary adjustments promptly.
3. Risk Allocation Control
Not all trades carry the same level of risk. Some may be high-risk, while others are more conservative. With Local Trade Copiers, you have full control over the risk allocation on your slave account. You can adjust the lot size or risk percentage for each master account you follow. This level of customization allows you to tailor your risk exposure to your risk tolerance and overall investment strategy.
4. Stop-Loss and Take-Profit Management
Stop-loss and take-profit orders are essential tools for risk management. They help limit potential losses and secure profits at predetermined levels. Local Trade Copiers enable you to automatically copy these orders from the master account to the slave account. This ensures that your risk management rules are consistently applied, even if you are not actively monitoring the markets.
5. Avoiding Emotional Trading
Emotions often cloud judgment in the world of trading. Fear and greed can lead to impulsive decisions that result in significant losses. By automating your trading strategy with Local Trade Copiers, you eliminate the emotional component from your trading. This disciplined approach can significantly reduce the risk of making hasty and irrational choices.
Choosing the Right Local Trade Copier
While Local Trade Copiers offer substantial benefits for risk management, it's crucial to choose the right one for your needs. Here are some factors to consider:
1. Compatibility
Ensure that the Local Trade Copier you choose is compatible with your trading platform and broker. Compatibility issues can disrupt the seamless replication of trades.
2. Reliability
Look for a Local Trade Copier with a proven track record of reliability. You don't want to risk technical glitches or downtime that could affect your trading activities.
3. Customization Options
Opt for a Local Trade Copier that offers a high degree of customization. This will allow you to tailor the software to your specific risk management requirements.
4. Support and Training
Choose a provider that offers excellent customer support and training resources. Having access to assistance when you need it is crucial for effective risk management.
5. Cost
Consider the cost of the Local Trade Copier, but don't make it the sole determining factor. The value it adds to your risk management efforts should justify the investment.
Conclusion
In an era where financial markets are characterized by volatility and uncertainty, Local Trade Copiers stand as a reliable ally for risk management. Their ability to diversify investments, provide real-time data, allocate risk, manage stop-loss and take-profit orders, and eliminate emotional trading makes them indispensable tools for both novice and experienced traders.
To safeguard your investments and optimize your trading strategies, consider incorporating a Local Trade Copier into your trading toolkit. It's a proactive step towards minimizing risk and increasing the potential for long-term success in the world of finance.