10 Innovative Ways To Style Your Favorite T-Shirt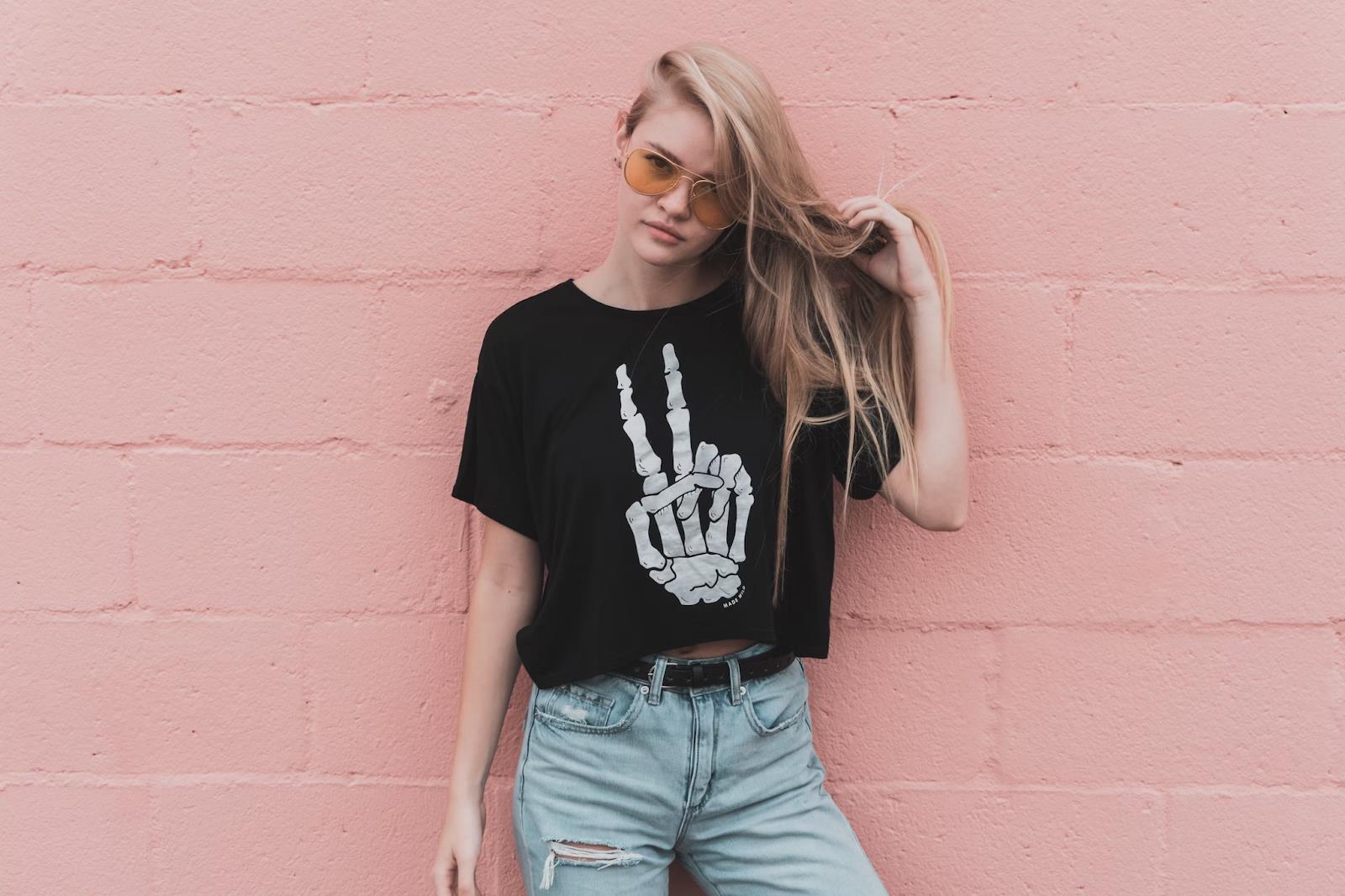 A T-shirt, be it a V-neck, round neck, oversized, or slim fit, is a wardrobe essential. It can be worn with jeans, a skirt, or shorts, and with a few nifty accessories, it can be dressed up or down.
This must-have wardrobe staple is one you can't live without! Thankfully, when it comes to styling your favorite t-shirt, there are numerous innovative ways, meaning there is a look to suit all.
Read on to discover our top ten ensembles.
1. Switch it Up by Pairing a Graphic T-shirt with a Suit or Skirt.
Graphic tees, especially those that nod towards army styles, like the t-shirts stocked by Nine Line Apparel, are a great way to embrace your American values while revealing more about your personality.
The army tshirt can be worn by both genres, with varying outfits, including skinny jeans and mini-skirts to statement suit trousers and form-fitting leggings.
One of the most prevalent ways to wear a graphic tee this season is to pair it with a suit or skirt, which creates that effortless 'J'nai sais quois' effect.
And when teamed with feminine or business attire, a graphic tee gives a formal look an instant hit of personality.
2. Embrace a Casual and Comfortable Vibe
Whether you're hitting the gym, walking the dog, or lounging about on a lazy Sunday morning, athletic tees are a must when embracing a casual yet comfortable vibe.
Athletic-style tees, including the new premium basic tees from Nine Line Apparel, have been created with army lifestyles in mind. Boasting super soft fabrics, a heathered look, and a smaller tonal logo crafted from reflective ink, they're a go-to for the gym and running errands.
Due to their block hues and minimalistic logo, these tees can be teamed with a wide range of items, including sports shorts, joggers, and jeans.
3. Wear to Show You Care
Whether it's for Pride, World Alzheimer's Day, EveryWoman Day, the International Day of Peace, Save the Heroes, or Breast Cancer Awareness, there are numerous days in our annual calendar that we all want to celebrate, and what better way to show you care than to promote the cause on your shirt!
The classic way to style a slogan tee comprises donning it with ripped or straight-legged jeans for a casual style or chic skinnies for a more sophisticated look.
4. Wear An Oversized T-Shirt as a Dress
The oversized t-shirt trend is undoubtedly having a moment, with both celebs and fashionistas alike donning tees a few sizes more prominent than usual, cinching them in at the waist with a belt and pairing them with a pair of sneakers for a relaxed look, or heels and statement jewelry for an upscale style.
5. Embrace Your Inner Boss
Another go-to look when styling t-shirts this season is pairing them with skinny jeans or suit trousers and a blazer. Blazers make any outfit look instantly on-trend and even give your favorite slouchy tee an edge of upmarket style.
6. Coordinate Your Style
Co-ords, otherwise known as 'coordinates,' come in matching bottoms and tops, which perfectly complement a range of t-shirts, including everything from plain, simple white tees to graphic style prints.
For best results, team bold suits in loud colors with block-colored tees and hot-hued, graphic t-shirts with simple, low-key co-rods to ensure you strike a balance.
7. Biker Shorts and a Bucket Hat
This is one of those trends that is splashed across everyone's IG feeds at present. It's a simple yet effective style that screams 'cool-chic' vibes. It's the ideal ensemble for running errands, watching a movie, or walking the dog. Finish the look with a hot-hued bucket hat and shades.
8. Keep it Simple
Plain t-shirts are a wardrobe essential; if you don't own at least one, now is the time to invest! The classic tee is one of the easiest style staples for both men and women to pull off. The best part? They go with just about anything!
Keep it simple and sharp on a warmer day with chinos and a shirt; on a cooler day, add denim jeans, a bomber jacket, or a cardigan to the mix.
9. A Lengthier Look
As the weather changes, switch your short-sleeved tees for long-sleeved t-shirts. When choosing such a style, it's important to consider fit; anything too baggy risks looking like PJs.
For best results, opt for basic hues to create a sophisticated style, such as white, black, grey, or navy tones.
Looking to add more character? Choose a striped long-sleeved t-shirt. This t-shirt style looks best when paired with skinny jeans (the darker the shade, the better) and sneakers or smart suit trousers and brogues.
10. A Linen Affair
Linen is one fabric that has made a comeback this season and is especially popular with those looking for a smarter style tee. The naturally crumpled fabric gives the ultimate vacation vibes.
It is often more breathable than polyester t-shirts – an excellent option for the office on humid days, especially if you wish to avoid heat stress.
Finish the look with fitted block-coloured chinos, jeans, or trousers. And for the ultimate style statement, add a blazer.
The Bottom Line
T-shirts are fun, they're versatile, and they can be worn day or night. Whether you pop one on first thing in the morning with a baggy pair of jeans or joggers or tuck your favorite graphic tee into a high-waisted mini skirt or smart pair of suit trousers, there are numerous ways to style this wardrobe essential.
The best part? With so many styles to choose from, ranging from smart-casual to retro graphic designs, a t-shirt suits all personalities. They're also an extremely budget-friendly option.
If you're new to the world of t-shirts, begin by investing in basic fits and colors, as you'll find that these are easier to pair with items you already own.
Once you feel comfortable with the t-shirt trend, you can move on to patterns, prints, graphics, and varying fabrics.