Best 10 Tips For Sequin Dresses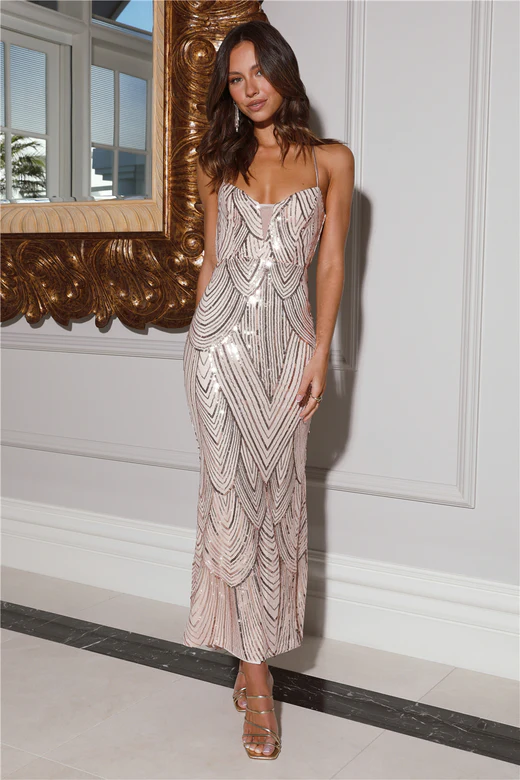 Attending your next important party? Well! Being a girl, we know how daunting it can be to find a dress. We have a common question before every party- What Should I Wear? Do you feel the same? We got you covered. Sequin dresses are some of the classic options to pick for a party, adding some shimmer and glam will add to your overall look. However, it's not as easy as it looks, sometimes we make mistakes when buying dresses that tone down the entire look. So, if you are planning to buy and wear a sequin dress, we have some tips to assist you.
Here is the list of the 10 best tips for sequin dresses:
#1 Mix! Mix! Mix!
When you are pairing a sequin dress or sequin bottoms with a top or sequin top with a bottom to complete the dress, mix and match. If you are going all out with a sequin dress, make sure you pair it with non-shimmer footwear and accessories. Make sure you balance your overall look and do not make sequin look overdone. For instance, if you are wearing an all-black sequin dress, pair it with simple black heels or matte contrasting heels with basic accessories.
#2 Pair a long dress with a bracelet and necklace
We have often seen women trying on long earrings with long sequin dresses. But it's not to add long earnings; you can add a small necklace and small earnings along with other accessories to balance your overall look. Sometimes people outdo these sequin gowns or long dresses with long earnings. Sequin is overpowering in itself, so you need basic accessories to pair.
#3 Don't be harsh with a sequin dress
When buying or handling a sequin dress, make sure you tackle it delicately and gently. Sequin dresses are delicate and need proper care and handling. If you are buying or handling these dresses, handle them with care even when you are wearing them. In addition, it's important to get your sequin dress dry-cleaned properly after use. It will help you use it for a longer time.
#4 Avoid complex silhouettes
Sequin dresses are already complex and complete in themselves. You do not need to add heavy sequin dresses with complex structures in the closet. You would not want to add too many elements in a dress that takes away the focus. Moreover, if your silhouette is complex and the sequins are large, it will not draw focused attention to the dress.
#5 Explore Colors
Sequin is not just limited to black, silver, or golden, instead of going classic every time with a sequin dress, explore colors. There are many color options available in sequin dresses such as orange, blue, white, green, and more. Sequin dresses are available in almost every color, so there's no reason to leave those stunning colors aside.
#6 Do not take Multi Color Sequin
Yes! You read in the above section to explore color but as a single piece or overall color. Do not buy dresses with multi-color sequins until you are using them as a costume for some specified event. Multi-color sequin is not a thing anymore, so try to opt for sequin dresses with a single color. Single colors can go for different parties as required, unlike multicolored sequin dresses.
#7 Pick cutouts and silhouettes carefully
Different cutouts will give different illusions for the wearer. Such as the V-shaped neckline of a dress will give a more elongated effect and make your body look taller and slimmer. Similarly, straight dresses will highlight your body structure and curves properly. Wrap Sequin dress can look flattering for the waist and gives a more chic look.
#8 Skin Tone should compliment
Many times, we do not focus on skin tones before selecting dresses and colors. We look for a dress, select a color, and then decide if it will look good or not. However, the process should be the opposite, consider your skin tone and then finalize which colors suit you best. Silver metallic colors look good on cool skin tone while gold look good on warm skin tone.
#9 Do not Over accessorize
Sequin dresses do not need many accessories, so keep them minimalistic. Whether you are considering a bracelet, necklace, or earnings, make sure you consider using simple and minimal accessories.
#10 Pair with heels
Do not make the mistake of wearing a sequin dress with flats or shoes to look cool. If you are attending a wedding or a special party, always stick to heels with a sequin dress.
Final Thoughts
These are some of the effective and useful tips when you are buying or wearing a sequin dress for your next party. It might look simple and small tips, but can make a difference for you. So, rock your next party with a sequin dress using these tips.
Hello Molly for your sequin dresses
Looking for stunning dresses? Check out Holly Molly for your sequin dress. We can offer a range of sequin dresses– Short & Long, Black & Coloured and more. So, check out Hello Molly Now!