Kilt Jackets | A Comprehensive Guide
The kilt jacket, also referred to as a kilt coat or kilt waistcoat, is a fundamental element of traditional Scottish attire that has endured for centuries. This garment plays a pivotal role in completing the classic Scottish outfit and is particularly favored for formal occasions such as weddings and Highland games. Historically, the kilt jacket has been a symbol of refinement and sophistication in Scottish dress. It is characterized by its tailored design and typically made from high-quality materials such as tweed or other woolen fabrics. The jacket often features intricate detailing and embroidery, showcasing the craftsmanship of Scottish tailors. The style of the kilt jacket can vary, with different regions and clans having their unique designs and variations. Its enduring popularity is a testament to its timeless elegance and cultural significance within Scottish tradition.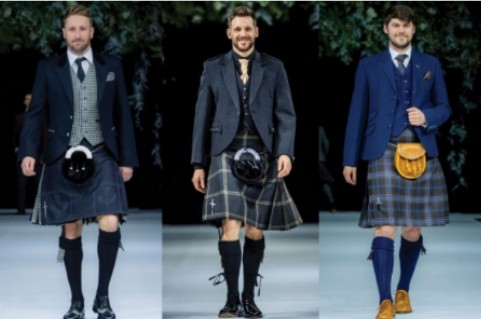 Wearing a kilt jacket properly is essential to maintaining the authenticity and grace of the Scottish outfit. Typically, it is worn over a traditional white dress shirt and paired with a kilt, sporran, and other accessories like a tie or necktie. The jacket should be buttoned up, and the kilt should be worn high on the waist, ensuring a polished and formal appearance. The kilt jackets versatility makes it suitable for various formal events, reflecting the wearer's appreciation for Scottish heritage and the enduring allure of traditional Scottish attire. Exploring the history and features of the kilt jacket offers a deeper understanding of its role in preserving Scotland's cultural legacy and the elegance it brings to formal occasions.
History of the Kilt Jackets
The kilt jackets have a rich history that dates back to the 16th century. It originated as a form of military dress, worn by Scottish soldiers during battles. The jacket was designed to be worn over the traditional kilt, which was made of tartan wool. The tartan pattern was used to identify the wearer's clan and was a symbol of pride and identity.
Over time, the kilt jackets evolved and became a staple in Scottish culture. It was worn by both men and women and was often adorned with intricate embroidery and other decorative elements. The jacket was also worn by civilians, and it became a popular choice for formal events, such as weddings and gatherings.
Features of the Kilt Jacket
The kilt jacket is a tailored garment that is typically made of wool or a wool-blend fabric. It is designed to be worn over a kilt, and it is characterized by a number of features, including:
A fitted waistcoat-style design that is worn over a shirt and kilt
A high-necked collar that is often adorned with a Celtic brooch
Two rows of buttons down the front
A fitted silhouette that is tailored to flatter the body
A variety of colors and tartan patterns to choose from
How to Wear a Kilt Jacket
Wearing a kilt jacket can seem intimidating, but with a few simple tips, you'll be able to pull off the look with ease. Here's a step-by-step guide on how to properly wear a kilt jacket:
Start by putting on your kilt. The kilt should be worn around your waist, with the pleats in the back.
Next, put on your kilt jacket. The jacket should be worn over your kilt, with the bottom button fastened.
Fasten the top button of your jacket, making sure that the collar is sitting properly.
Adjust the fit of your jacket, making sure that it is tailored to your body.
Add any additional accessories, such as a Celtic brooch or a sporran (a traditional Scottish pouch).
Finally, put on your kilt hose (long socks) and your Ghillie brogues (traditional Scottish shoes).
Tips for Wearing a Kilt Jacket
Here are a few tips to keep in mind when wearing a kilt jacket:
Make sure that your kilt and kilt jacket are made of the same tartan pattern. This will create a cohesive look and show that you are proud of your Scottish heritage.
Consider the occasion when choosing your kilt jacket. If you are attending a formal event, such as a wedding, you may want to opt for a more formal jacket with embroidery or other decorative elements.
Don't be afraid to add your own personal touch to your kilt jacket. You can add a Celtic brooch or other accessories to make the outfit your own.
Take care when choosing the fit of your kilt jacket. It should be tailored to your body, but it should also allow for freedom of movement.
Styles and Variations
The kilt jacket is not a one-size-fits-all garment; it boasts a variety of styles and variations, each with its unique characteristics. The two primary styles of kilt jackets are the Prince Charlie jacket and the Argyll jacket.
The Prince Charlie jacket is the epitome of formal Scottish attire. It is characterized by its satin lapels, ornate buttons, and gauntlet cuffs. This style of jacket is often worn with a wing-collared shirt, bow tie, and waistcoat, making it the ideal choice for formal events such as weddings and ceilidhs.
Conversely, the Argyll jacket is a more versatile and slightly less formal option. It features a plain, rounded lapel and can be dressed up or down to suit various occasions. The Argyll jacket pairs well with a standard shirt and tie, making it suitable for both formal and semi-formal events.
Beyond these two primary styles, there are numerous variations of kilt jackets, each with its unique features. Some may have decorative braiding or piping, while others may feature silver buttons and intricate embroidery. The variety of options allows individuals to express their personal style while adhering to the traditions of Highland dress.
Your kilt Jacket Destination
At the Scotland Shop, you'll discover a remarkable array of kilt jackets to suit every taste and occasion. Whether you're in search of a traditional and timeless Prince Charlie jacket, a more contemporary and casual Argyll jacket, or a stylish and versatile tweed jacket, we have a diverse selection to cater to your needs. Our kilt jackets are expertly crafted to the highest standards, ensuring you not only look your best but also feel comfortable and confident in your Scottish attire. Whether you're attending a formal event, a Highland wedding, or simply want to add a touch of Scottish heritage to your wardrobe, the Scotland Shop is your go-to destination for all types of kilt jackets, exuding the essence of Scotland's rich cultural heritage.
Materials and Craftsmanship
The quality and craftsmanship of a kilt jacket are of utmost importance. These jackets are typically crafted from high-quality wool, tweed, or velvet, depending on the style and occasion. The choice of material significantly influences the jacket's durability, comfort, and overall appearance.
Traditional kilt jackets are often made from pure wool, prized for its warmth and resilience. Tweed jackets, on the other hand, offer a rustic and textured look that is perfect for outdoor events. Velvet jackets exude luxury and sophistication and are typically reserved for the most formal occasions.
The craftsmanship of a kilt jacket involves meticulous attention to detail. Tailors skillfully cut and sew each jacket to ensure a perfect fit. The intricate pleating on the back of the jacket, the placement of buttons, and the quality of the stitching all contribute to the overall elegance of the garment.
Accessorizing the Kilt Jacket
To complete the Highland dress ensemble, the kilt jacket is often accompanied by a range of accessories. These accessories not only add to the outfit's aesthetic but also carry cultural significance. Some key accessories include:
Sporran: The sporran is a pouch worn at the front of the kilt and serves as a practical item for carrying essentials. It is typically made from leather or fur and comes in various designs, from simple daywear sporrans to ornate formal sporrans.
Kilt Pin: The kilt pin is both functional and decorative. It is worn on the front apron of the kilt to prevent it from flapping open. Kilt pins come in a variety of designs, often featuring Celtic motifs or clan symbols.
Ghillie Brogues: These traditional Scottish shoes are characterized by their distinctive laces that wrap around the ankle. Ghillie brogues are worn with kilt hose and offer both style and comfort.
Sgian Dubh: The sgian dubh is a small dagger that is traditionally worn in the sock or hose. It is a symbol of Scottish heritage and is often displayed as part of the Highland dress ensemble.
Belt and Buckle: A belt and buckle are worn with the kilt to provide a secure fit. The buckle often features clan crests or Celtic designs, adding a personal touch to the outfit.
By carefully selecting and coordinating these accessories, individuals can personalize their kilt jacket outfit to reflect their heritage and style.
Conclusion
The kilt jacket is a timeless piece of Scottish clothing that has been worn for centuries. Its rich history and cultural significance make it a staple in Scottish culture. With its fitted silhouette and tailored design, the kilt jacket is a versatile garment that can be worn for a variety of occasions. Whether you are attending a formal event or simply want to show off your Scottish heritage, the kilt jacket is a great choice.