The Different Types of DartBoards: Which One Is The Best?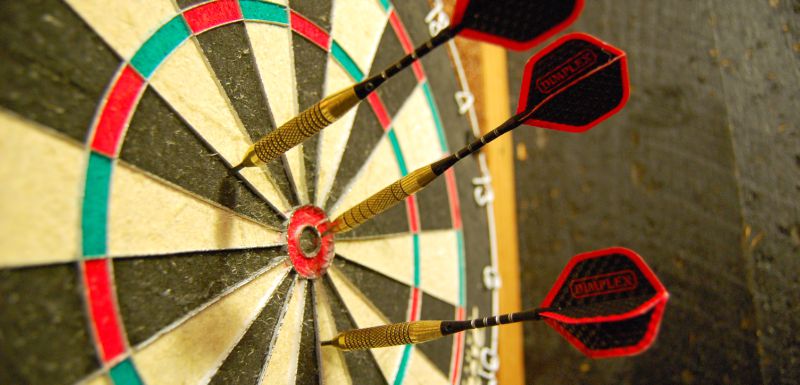 Are you ready to elevate your dart-throwing skills to the next level? Whether you're a seasoned pro or just getting started, finding the right dartboard is important for sharpening your aim and igniting some friendly competition. But with so many options available, how do you know which one suits your needs best? Get ready to hit the bullseye as we explore the fascinating world of dartboards and uncover which type reigns supreme. From traditional sisal boards to electronic wonders, this blog post will guide you through all the different types of dart boards, helping you make an informed decision that will lead to hours of enjoyment and countless unforgettable games! So grab a pint, gather your friends, and let's dive into this thrilling journey together!
History of Dart Boards
Dartboards have a centuries-old history, initially used for target practice by soldiers. The game of darts originated in medieval England, where soldiers casually threw short arrows at wooden targets. Over time, materials like cork or sisal fibers replaced wooden targets, but early dart boards lacked standardization in size and design.
In the 20th century, manufacturing advancements led to bristle dartboards with a self-healing surface, revolutionizing the game. The technological era introduced electronic dartboards, featuring automatic score tracking and various game modes, gaining popularity for their convenience. While traditionalists prefer authentic bristle or cork dartboards, magnetic and paper options are popular for casual play or introducing younger players to the sport.
The history of dart boards showcases the evolution of this pastime, catering to diverse preferences and skill levels. Whether you're a seasoned player or a beginner, there's a perfect board for everyone!
#1: The Standard Dartboard
The Standard Dartboard, known as the Traditional or Classic Dartboard, is widely used in pubs and homes, boasting centuries of history and enduring popularity. Crafted from compressed sisal fibers, it offers durability with a self-healing surface, featuring 20 numbered sections and a high-scoring bullseye. While maintenance is required for longevity, the traditional dartboard is an excellent choice for those seeking authenticity and a lasting playing experience.
However, it may not be ideal for beginners due to small target areas and the absence of electronic features. If authenticity is your priority, the Standard Dartboard is a top choice!
Pros
Ubiquity: Standard dartboards, often crafted from sisal or similar materials, are widely accessible and prevalent in most dart-playing establishments.
Endurance: Sisal dartboards boast durability, demonstrating resilience against repeated use and maintaining their quality over extended periods.
Classic Ambiance: Standard dartboards contribute to a traditional and authentic gaming atmosphere, appealing particularly to dedicated dart players who value the classic experience.
Precision: Sisal fibers in standard dartboards facilitate excellent dart penetration and grip, ensuring a heightened level of precision and minimizing bounce-outs.
Professional Standing: Commonly featured in professional dart tournaments, standard dartboards enhance their credibility and standing within the dart-playing community.
Cons
Expense: High-quality sisal dartboards may incur a higher cost compared to alternatives like paper or magnetic dartboards.
Weightiness: Sisal dartboards' substantial weight renders them less portable and more challenging to relocate in comparison to lighter options.
Upkeep: Despite their durability, standard dartboards necessitate regular maintenance, including consistent rotation to prevent uneven wear and extend their lifespan.
Installation Complexity: Mounting a standard dartboard can be more intricate than installing lighter options, requiring a secure and stable setup.
Learning Challenge: Beginners may encounter a steeper learning curve with standard dartboards, given the precision demanded for accurate throws, potentially leading to initial frustration.
#2: Electronic Dartboards
Electronic Dartboards have revolutionized darts with automatic score calculation and display, eliminating manual scorekeeping. These high-tech boards offer diverse games and scoring options, accommodating various preferences and allowing players to compete against computer opponents at different difficulty levels. They provide instant feedback after each throw, simplifying learning for beginners.
Their durability, made from robust materials like nylon segments or plastic housing, ensures longevity. Despite lacking the authenticity of traditional boards, electronic dartboards are an excellent choice for those seeking convenience and advanced features in their darts experience. Why not give them a try and step into the future with these cutting-edge gaming devices?
Pros
Automated Scoring: Electronic dartboards feature integrated scoring systems, eliminating the need for manual scorekeeping. This enhances convenience and accuracy during gameplay.
Game Variety: Electronic dartboards often come with a diverse range of dart games, offering players various options for entertainment.
Multiplayer Capability: Many electronic dartboards support multiplayer modes, enabling several players to participate simultaneously. This fosters a social and competitive atmosphere.
Customization Features: Some electronic dartboards allow players to personalize game settings, adjusting difficulty levels and scoring rules for a tailored gaming experience.
Safety: Electronic dartboards typically use soft-tipped darts, reducing the risk of injury. This makes them suitable for family use, especially in households with children.
Cons
Initial Investment: Electronic dartboards generally entail a higher upfront cost compared to traditional dartboards, making them a more substantial financial commitment.
Maintenance Challenges: Electronic dartboards contain electronic components that may require maintenance or repairs over time, introducing an additional layer of complexity compared to traditional boards.
Power Dependence: Electronic dartboards rely on a power source to operate, limiting their portability and necessitating access to an electrical outlet.
Sensory Calibration: The sensors in electronic dartboards may need occasional calibration to ensure accurate scoring. Factors like lighting conditions can impact their performance.
#3: Bristle Dartboards
Bristle dartboards, a top choice among professional players, are crafted from compressed sisal fibers, offering a unique texture and exceptional durability. Their self-healing capability stands out, ensuring that sisal fibers close up after dart removal, leading to prolonged use and accurate scoring. These boards deliver an authentic playing experience, with densely packed sisal fibers mimicking traditional pub-style boards, heightening realism and the overall throwing experience.
Maintenance is minimal, requiring regular brushing to remove dust or dirt without causing damage. However, water or cleaning solutions should be avoided to protect the integrity of sisal fibers. Despite the potentially higher cost, the longevity of bristle dartboards justifies the investment for passionate darts enthusiasts, enhancing playing experiences in both solo practice and intense competitions.
Pros
Endurance: Bristle dartboards, frequently crafted from sisal fibers, are celebrated for their durability, withstanding extensive use and maintaining quality over time.
Authentic Experience: Bristle dartboards deliver an authentic playing experience, closely mirroring the feel of traditional dartboards used in professional competitions.
Self-Healing Capability: Sisal fibers in bristle dartboards exhibit self-healing properties, closing punctures left by darts and ensuring an extended lifespan.
Minimized Bounce-Outs: The inherent nature of sisal fibers minimizes bounce-outs, heightening the accuracy of dart throws and reducing frustration during gameplay.
Cons
Cost: High-quality bristle dartboards can be pricier compared to alternative options such as paper or magnetic dartboards.
Weight: Bristle dartboards tend to be heavier, diminishing their portability and posing challenges in terms of mobility compared to lighter alternatives.
Maintenance Needs: While durable, bristle dartboards require proper maintenance, including regular rotation to prevent uneven wear and prolong their lifespan.
Installation Complexity: Mounting a bristle dartboard can be more intricate compared to lighter options, demanding a secure and stable setup.
#4: Magnetic Dartboards
Magnetic dartboards offer a safe and worry-free dart-playing experience, thanks to their special magnetic surface that securely holds darts without sharp tips. This makes them perfect for households with kids and beginners. These boards often come with various features like scoring options and target designs to enhance gameplay, and some even have built-in score trackers and multiplayer modes.
While they may have limitations like occasional bounce-outs and a less authentic feel, magnetic dartboards provide a convenient and safe way to enjoy darts at home or on the go. Whether you prioritize safety or simplicity, a magnetic dartboard could be the right pick for you!
Pros
Safety: Magnetic dartboards ensure safety by using darts with magnetic tips, eliminating the risk of injury or damage to surroundings.
Child-Friendly: With the absence of sharp tips on the darts, magnetic dartboards are ideal for households with children, creating a worry-free and secure playing environment.
Easy Setup: Magnetic dartboards are straightforward to set up, requiring no intricate installation or mounting procedures, making them accessible for all age groups.
Portability: These boards are lightweight and easily portable, facilitating convenient transport and gameplay in various locations, whether indoors or outdoors.
Minimal Damage: The magnetic surface minimizes harm to the board and darts, contributing to a longer lifespan and reduced replacement costs.
Cons
Bounce-Outs: Magnetic dartboards may experience occasional bounce-outs due to the varying strength of the magnets, impacting gameplay accuracy.
Limited Authenticity: The lightweight construction and use of magnetic darts may result in a lack of the authentic feel found in traditional dartboards, potentially less appealing to some players.
Accuracy Issues: Achieving high accuracy in magnetic dartboards can be challenging, especially for players accustomed to the precision of steel-tipped darts on traditional boards.
Not Tournament Standard: Magnetic dartboards are not commonly employed in professional or tournament settings, limiting their appeal to serious and competitive players.
Less Durability: The lightweight materials used in magnetic dartboards may make them less robust compared to traditional options, particularly under heavy use.
#5: Cork Dartboards
Cork dartboards are favored by serious players for their durability and classic feel, featuring a soft surface from compressed cork that securely catches darts without causing excessive damage. Their self-healing nature reduces the need for frequent replacements, contributing to prolonged durability. In addition to durability, cork dartboards provide a quieter gaming experience by absorbing dart impacts, and minimizing reverberation.
Despite their higher cost and potential for slight bounce-out variations due to the softer surface, these boards remain highly desirable for dedicated dart enthusiasts who value authenticity and quality gameplay. The combination of self-healing capabilities and reduced noise levels makes cork dartboards an excellent choice for serious players.
Pros
Durability: Crafted from compressed cork, cork dartboards exhibit durability, withstanding frequent use.
Self-Healing: The natural composition of cork allows the board to self-heal, closing punctures from darts and extending its lifespan.
Reduced Noise: The cushioned surface of cork dartboards absorbs impact, leading to less reverberation and a quieter gaming experience.
Family-Friendly: Cork dartboards, with their dart tips lacking sharp edges, provide a safe and family-friendly gaming option.
Classic Design: Cork dartboards often showcase a classic design featuring numbered sections and bullseye targets, delivering an authentic playing experience.
Cons
Cost: High-quality cork dartboards may entail a higher expense compared to alternative options.
Bounce-Outs: The softer surface of cork dartboards may result in occasional bounce-outs.
Variations in Feel: The softer composition of cork dartboards might lack the authentic feel and durability found in other different types of dart boards.
#6: Paper Dartboards
Paper dartboards, though not as widely popular, have a distinct charm. Constructed from a mix of paper and cardboard, these lightweight and affordable options cater to casual players, excelling in portability for activities like camping or backyard play. While they may lack durability compared to other different types of dart boards, making them susceptible to quicker wear, their suitability for recreational play offsets this concern.
Featuring classic designs, including numbered sections and bullseye targets, paper dartboards provide entertainment value, albeit with less precision than high-end alternatives. Their budget-friendly nature makes them an excellent choice for those seeking a simple gaming experience without breaking the bank.
Pros
Affordability: Paper dartboards provide a cost-effective option, catering to players on a budget.
Portability: Thanks to their lightweight construction, paper dartboards are highly portable and easy to transport.
Ease of Setup: Setting up these dartboards is uncomplicated, requiring minimal effort for installation, making them adaptable to various environments.
Classic Design: Paper dartboards typically showcase a classic design with numbered sections and bullseye targets, offering a familiar and traditional playing experience.
Casual Play: Tailored for casual players, paper dartboards offer hours of entertainment without necessitating a significant financial investment.
Cons
Durability: The delicate nature of the material makes paper dartboards less durable, impacting their longevity compared to sturdier alternatives.
Accuracy: The accuracy of paper dartboards may be compromised in comparison to more advanced dartboard types, affecting gameplay for those seeking precision.
Limited Authenticity: The feel of playing on a paper dartboard may lack the authenticity and robustness found in options like bristle dartboards.
Not for Intense Competition: Paper dartboards are not engineered for intense competition or professional play, limiting their appeal to serious players.
Potential for Damage: Regular use may lead to quicker wear and tear or damage in paper dartboards compared to more resilient alternatives.