Unleash Your Inner Explorer: Must-Have Hunting Gear for Outdoor Adventures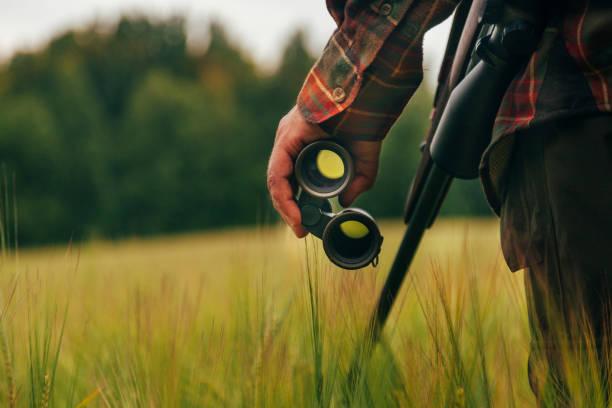 Whether you're an experienced hunter who has explored the wilderness for years or just starting to discover the outdoors, having the proper gear is essential to ensure safety, comfort, and success. Your equipment is vital to enjoy the therapeutic effect of every expedition, from short hikes to multi-day backcountry trips.
This article will discuss the must-have items for any hunting or outdoor activity: hunting gloves, boots, backpack, knife, binoculars, compass, first aid kit, and headlamp. Read on to learn everything you need to take on the trails and beyond confidently.
1. Hunting Gloves
As any experienced hunter knows, you can't shoot what you can't hold onto, especially in frigid conditions. A quality pair of insulated hunting gloves is crucial for maintaining agility, particularly when temperatures plummet below freezing.
When shopping for gloves, you'll want to look for waterproof and breathable materials like leather, nylon, or Gore-Tex to keep your hands dry even when sweating on the trail. Thinsulate, PrimaLoft, or other synthetic insulation throughout the glove provides crucial warmth for handling firearms, gear, and game in the bitter cold.
Find gloves that conform to your hands without being too tight so that you can move freely without compromising circulation- you don't want to risk frostbite or numb hands out in the field. Non-slip surfaces on fingers and palms provide a secure grip no matter the conditions. Adjustable wrist straps help seal out drafts and wind.
For the best hunting gloves for cold weather, you may consider double-layer insulated gloves with removable liners, allowing the top layer to be wiped clean while keeping hands warm and dry. You'll stay comfortable even on the coldest winter excursions with the right pair of gloves.
2. Hunting Boots
Your feet will carry you miles across rugged terrain, so boots are another essential piece of gear. Look for boots specifically designed for hunting with features like waterproofing, insulation, ankle support, and traction.
In wet or snowy weather, your feet will stay warm and dry if you wear insulated boots with thick socks. Make sure the boots are broken in before your hunt to avoid blisters. Go for mid-calf height for ankle support on uneven ground.
The proper boots will allow you to hike for hours without fatigue and explore the backcountry further.
3. Backpack
A quality backpack is necessary for carrying all your essential hunting and camping gear into the field. Look for bags with durable fabric, ample storage space, and adjustable straps for a comfortable custom fit.
Internal frames distribute weight evenly across your back and hips for long hauls. Compartments and pockets help keep gear organized. Hydration sleeves allow hands-free water access. For overnight trips, choose a backpack with sleeping bag attachments.
The right backpack will have everything you need within easy reach for maximum outdoor enjoyment and safety.
4. Knife
No outdoor kit is complete without a reliable fixed blade or folding knife. Choose a blade style and size suited to your needs, like skinning, cleaning game, or general camp tasks.
Stainless steel resists corrosion while retaining an edge. Full tang knives are the strongest. Look for comfortable, non-slip handles and protective sheaths.
A knife is indispensable for preparing camp meals, first aid, and more. With the right blade, you'll be ready for any situation you encounter in the field.
5. Binoculars
Quality binoculars let you see the outdoors clearly from afar. 8×42 magnification makes wildlife viewing vivid and clear.
Fully coated lenses increase low-light light transmission and eliminate glare. Body rubber armor gives a non-slip grip. A binocular harness or neck strap makes optics accessible and hands-free.
Waterproofing reduces rain or, mist damage or internal fogging. You'll view more of nature using binoculars on every trip.
6. Compass
A basic compass is lightweight but invaluable for navigation in unfamiliar areas. Look for compasses designed to float if dropped in water.
Models with declination adjustment compensate for magnetic variation in different locations. Luminous bezels and needles allow reading in low-light conditions.
Learn basic orienteering skills to use your compass and never lose your bearings properly. With a compass, you can confidently explore new trails and always find your way back to camp or the trailhead.
7. First Aid Kit
No matter how careful you are, minor injuries can still occur outdoors. Carry a well-stocked first aid kit to treat cuts, blisters, stings, and other mishaps before they become serious.
Bandages, gauze, medical tape, antiseptic wipes or sprays, moleskin, painkillers, antihistamines, and a first-aid manual are essential.
Waterproof wrapping prevents moisture damage. Any pack or belt pouch can hold a modest first aid kit. With the correct first aid equipment, you can address small concerns without ending your adventure.
8. Headlamp
A dependable headlamp lets you continue outdoor activities at dusk. Headlamps with flood and spot beam settings enable hands-free lighting for breaking camp, navigating trails at night, and reading a map.
LED bulbs use few batteries and produce intense light. Some models have red illumination for night vision. Adjustable straps or elastic bands fit snugly. No matter the time, a light will enhance your exploration.
Conclusion
Whether you're a seasoned outdoorsman or just getting your feet wet, you need reliable equipment to ensure your safety, convenience, and enjoyment.
This article discussed the must-have items that should form the core of any outdoor kit: hunting gloves, boots, backpack, knife, binoculars, compass, first aid kit, and headlamp. Investing in reliable equipment pays off with longer, more enjoyable adventures in nature. Get out there and unleash your inner explorer – the wilderness is calling!