The Ultimate Guide to Finding the Perfect Office Chair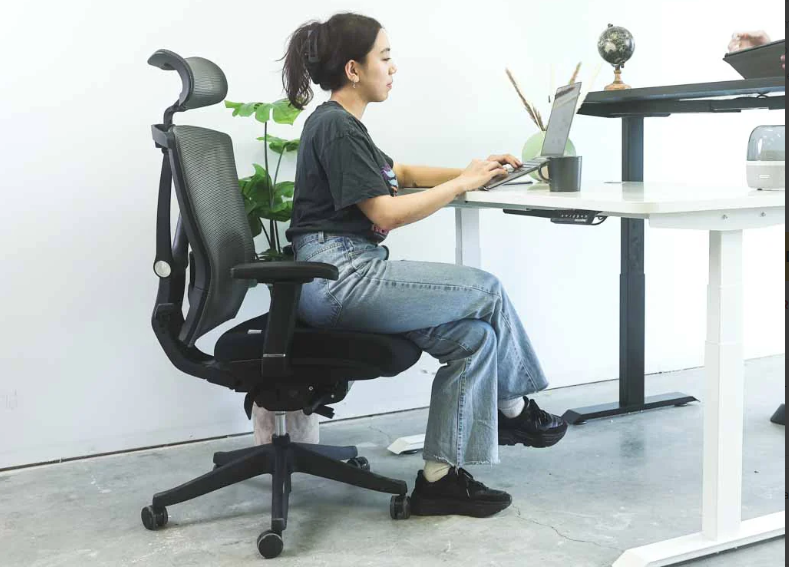 One of the most important aspects of creating a comfortable and productive workspace is the office chair.
Your office chair can make a significant difference in your workday, enhancing comfort and productivity. The purpose of this comprehensive guide is to introduce you to a variety of aspects of office chairs.
We will discuss the different types available and factors to consider when selecting a suitable chair.
Table of Content:
The Importance of an Office Chair
Types of Office Chairs
Motiongrey Cloud Mesh Ergonomic Office Chair
Motiongrey SpaceMesh Office Chair
Factors to Consider When Buying an Office Chair
Adjustability
Comfort
Material
Size and Weight Capacity
Mobility and Swivel
Style and aesthetics
Conclusion
The Importance of an Office Chair
Your office chair is not just a piece of furniture; it's a tool that plays a crucial role in your daily work routine.
A well-designed office chair provides essential support to your spine, promotes good posture, and reduces the risk of back problems and discomfort.
Whether you work from home, in a traditional office, or a collaborative workspace, having the right office chair is essential for your overall well-being and work performance.
Types of Office Chairs
1. Motiongrey Cloud Mesh Ergonomic Office Chair
Experience ultimate comfort with the Motion Cloud Mesh office chair, designed to support your body's unique needs. This cutting-edge chair provides ultimate comfort and support for long work hours.
Here's what makes it stand out:
The Motion CloudMesh chair offers five lockable recline positions, adapting to every body type and sitting position. Whether you prefer an upright posture or a relaxed recline, this chair has you covered.
This chair is easily customizable to suit your unique body type. To enhance your comfort, adjust the seat height, armrests, and lumbar support to your preference.
The mesh fabric used in this chair provides superior breathability and comfort. No matter how warm the temperature gets, you can expect cooling and comfort while seated.
The Motiongrey Cloud Mesh chair is not just about comfort; it's also about style and durability. Its sleek design and robust construction ensure that it will complement your office decor and stand the test of time.
2. Motiongrey SpaceMesh Office Chair:
The Motiongrey Space Mesh Office Chair is the epitome of comfort and functionality. It stands out among the diverse range of office chairs for several reasons.
Here's what makes it stand out:
Easy adjustment for Maximum Comfort
One of the key selling points of the Motion Space Mesh Office Chair is its unparalleled ease of adjustment. It's equipped with a patented one-touch mechanism that simplifies chair customization.
From adjusting the chair's height to fine-tuning the headrest height, you can effortlessly control every aspect of your seating experience from a central location.
This feature ensures that you can tailor the chair to suit your body's unique needs, promoting optimal comfort and support throughout your workday.
Firm Cushion and Soft Lumbar Support
Balancing firmness and comfort is an art, and the Motion Space Mesh Office Chair has mastered it.
Its cushion strikes the perfect balance between firm support and plush comfort, allowing you to sit for extended periods without fatigue.
Additionally, the soft lumbar support cradles your lower back, promoting proper spinal alignment and reducing discomfort or strain.
Factors to Consider When Buying an Office Chair
Choosing the right office chair involves careful consideration of several key factors:
Ensure that the chair can be adjusted to your preferred height, angle, and comfort level. Adjustable armrests and lumbar support are also essential features to look for.
Comfort is paramount. Sit in the chair to assess its comfort. Padded seats, ergonomic contours, and breathable materials all contribute to comfort.
Consider the chair's material. Leather chairs offer a classic look, while mesh chairs are breathable. Each material has its advantages, so choose the one that suits your style and comfort preferences.
Size and Weight Capacity:
Make sure the chair is appropriately sized for your body and can support your weight. Chairs with a weight capacity higher than your weight are more durable and stable.
A chair with casters and swivel capabilities allows you to move easily around your workspace without straining or getting up repeatedly.
Your office chair should complement your workspace decor. It's important to select a style and color that matches your personal preferences and the appearance of your workplace. Also, make sure to check the spelling, grammar, and punctuation errors.
Conclusion
Investing in the right office chair is an investment in your comfort, productivity, and long-term health.
There are many different types of office chairs available, and it's important to consider some essential factors to make an informed decision that suits your specific needs and preferences.
It's important to keep in mind that your office chair is not just a piece of furniture but rather a valuable tool that can enhance your work experience and improve your overall well-being.