Calories In Champagne: The Nutritional Content Of Your Favorite Bubbly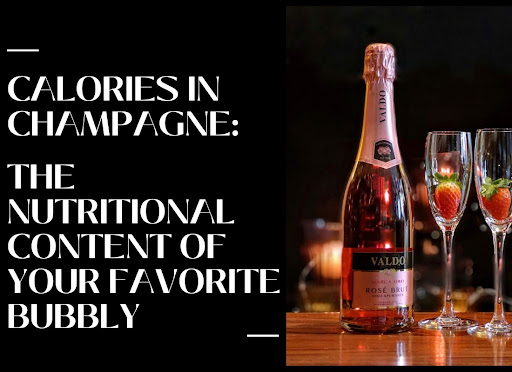 When it's time to revel in celebrations, raise your glasses for toasts, or simply savor those cherished special moments, nothing quite captures the essence of luxury and delight like a bottle of champagne. The captivating dance of effervescent bubbles, the unmistakable pop of the cork, and the graceful flutes brimming with liquid gold all conspire to create an atmosphere of sheer indulgence.
But amid the clinking glasses and laughter, have you ever paused to ponder the nutritional secrets hidden within your beloved bubbly? In this engaging discourse, we embark on a voyage to demystify the caloric enigma of champagne, ultimately addressing the quintessential question that lingers in the minds of many: Just how many calories reside within the confines of that exquisite champagne bottle? Buckle up, for we're about to dive into the delicious world of champagne's caloric mysteries.
The Fascinating World Of Champagne

champagne my friends, isn't your ordinary drink; it's an embodiment of sophistication and sheer bliss. This sparkling marvel, hailing from the enchanting Champagne region of France, has traversed oceans and continents to enchant the world. While its crisp taste and bubbly charm are widely adored, what often escapes our attention are the intriguing health advantages it holds.
Believe it or not, champagne has more to offer than a mere tickle to your taste buds; it's a treasure trove of hidden benefits that might just leave you astounded. So, grab yourself a flute, and let's embark on an exhilarating journey into the captivating realm of champagne's wholesome wonders.
The Caloric Breakdown
Calories In A Glass Of Champagne:
Before we dive into the specifics of a champagne bottle, let's first take a look at the caloric content of a standard glass of champagne, which is around 4 ounces (120 ml). On average, a glass of champagne contains approximately 90-100 calories. This calorie count primarily comes from the alcohol content in the wine.
How Many Calories In A Bottle Of Champagne:
Now, let's address the main question: How many calories are in a bottle of champagne? A standard bottle of champagne holds 750 ml of liquid. The caloric content can vary based on the specific type of champagne (brut, extra brut, sec, etc.) and its alcohol content. On average, a bottle of champagne contains about 450-525 calories. However, it's important to remember that this estimate can fluctuate depending on the specific type and brand of champagne you select. To dive deeper into this topic, check out the article here: How Many Calories In Bottle Of Champagne.
Calories By Champagne Type:
The calorie count can differ slightly depending on the sweetness level of the champagne. For instance:
Brut Champagne (very dry): A bottle of brut champagne typically contains around 450-500 calories.
Extra Brut Champagne (even drier): The calorie count for a bottle of extra brut champagne is similar to that of brut, around 450-500 calories.
Sec Champagne (slightly sweet): A bottle of sec champagne might have a slightly higher calorie count, ranging from 500-525 calories.
Demi-Sec Champagne (semi-sweet): Champagne with a bit more sweetness, like demi-sec, might have around 525 calories in a bottle.
Factors Affecting Caloric Content
Alcohol Content: The primary contributor to the calorie content in champagne is its alcohol content. Alcohol contains more calories per gram than carbohydrates or proteins, and champagne's alcohol content generally falls between 11-12%.
Residual Sugar: The sweetness level of champagne is determined by its residual sugar content. Sweeter champagnes tend to have a slightly higher calorie count due to the sugar content, but the difference is not substantial.
Serving Size: Keep in mind that the calorie count mentioned here is based on a standard 750 ml bottle. If you're served larger pours, the calorie count will increase accordingly.
Balancing Indulgence And Health
Just like any indulgence in life, the golden rule remains moderation. While relishing one or two glasses of champagne adds sparkle to your special moments, keeping a watchful eye on your overall calorie intake is a wise move, especially if you're on a weight management journey. If you find yourself concerned about those calorie digits, here are some pearls of wisdom to ponder:
Opt For Brut Or Extra Brut: Dry champagnes like brut and extra brut tend to have slightly fewer calories than their sweeter counterparts. These options can be a better choice if you're looking to save on calories.
Share The Joy: Instead of indulging in an entire bottle by yourself, share it with friends or family. Not only does this create a more festive atmosphere, but it also helps in controlling your calorie consumption.
Stay Hydrated: Remember to balance your alcohol consumption with water to stay hydrated and mitigate the potential effects of alcohol.
Conclusion
Champagne remains a luxurious and timeless choice for celebrations, and knowing its caloric content adds a touch of nutritional awareness to the mix. Understanding the calories in a bottle of champagne can help you make informed choices while still savoring the elegance and joy that this sparkling wine brings.
If you're looking to purchase a bottle of champagne or champagne gift baskets for a special occasion, consider Wine and Champagne Gifts. Their wide selection of high-quality champagne options and elegant gift packages makes them a perfect choice for finding the ideal bottle to toast to life's moments.
Remember, balance is the key to a sustainable and enjoyable lifestyle. Whether you're toasting to accomplishments, raising a glass to love, or simply enjoying the beauty of life, you can now do so with a clearer understanding of the nutritional aspect of your favorite bubbly. So, raise your glass, celebrate life's victories, and make informed choices that align with your fitness journey. Cheers to good health and memorable moments!