How to Paint Over Wallpaper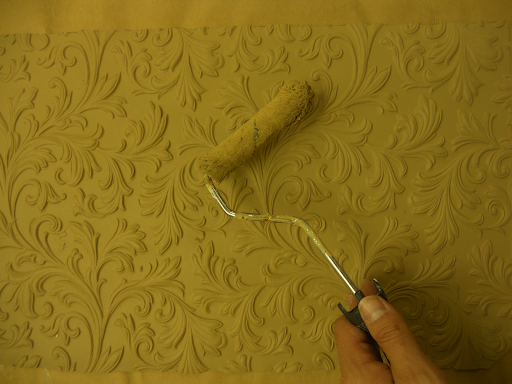 Are you tired of your old wallpaper? Do you want the walls to look modern and new? Great news! We have a solution: just paint over the wallpaper! Yes, you can make your boring walls look amazing by preparing and following some helpful advice from experts.
This blog post, Wallpaper Land, will show you how to paint over wallpaper, explaining each step. We have all the advice to make your floral patterns or textured prints look perfect. Let's start this fun DIY project by grabbing your paint brushes!
Getting the Walls Ready for Painting
It's important to clean them well before you start painting over wallpaper.
Step 1: Wash with mild soap and warm water. Use this combination to clean grease, filth, and grime. After washing, dry the walls.
Step 2: Look at the wallpaper for any rips, edges that are coming loose, or bubbles. Use a putty knife or scraper to gently remove any imperfections. If you see big holes or damaged spots, use spackle or joint compound to fix them. Then, sand them until they feel smooth.
Step 3: Sometimes, after putting up wallpaper, sticky stuff can be leftover from the glue used to stick it on. To make painting easier, use a wet sponge to gently remove any leftover adhesive from the wallpaper.
Step 4: Gently sanding the wallpaper can make it easier for the paint to stick by removing shiny surfaces and making textured patterns rougher. To avoid harming the wall, gently rub the surface with circular motions using fine-grit sandpaper.
Picking the Best Paint and Tools
It's important to pick the right paint and tools to paint over wallpaper. Here are five things to think about
Besides brushes and rollers, ensure you have other important tools like drop cloths, painter's tape, sandpaper, or a sanding block. These tools will help you smooth rough areas on walls before painting.
Pick a decent wallpaper-covering paint. Choose high-quality latex or acrylic paint for painting. Better adhesion and durability make these paints last longer and look excellent.
Choose a paint finish that matches your space's vibe. Satin or semi-gloss surfaces are simpler to clean, while matte finishes hide defects.
Before you paint, use a special primer to cover the wallpaper. Doing this will smooth the surface and help things stick better, so they cover everything nicely.
Get good brushes and rollers to make your work look professional. Synthetic bristle brushes are good for latex paints, and natural bristle brushes are good for oil-based paints.
If you think about these things when picking your paint and tools, you'll be well on making your wallpaper Dubai look great with paint!
Make Sure the Surface Is Flat and Smooth
Step 1: Clean the walls before painting over the wallpaper. A sponge or cloth and light detergent may remove dirt, grease, and grime off the surface. Do this to guarantee paint adhesion and evenness.
Step 2: Check the wallpaper for cracks and fill them with spackling compounds. Smooth the compound using a putty knife. Wait for full drying before proceeding.
Step 3: Lightly sand wallpaper using fine-grit sandpaper. Smoothing the wallpaper removes bumps and imperfections.
Step 4: Priming is necessary before painting over wallpaper. Sealing the surface improves paint adhesion. Choose an effective wallpaper primer.
Step 5: Use light strokes in one direction to make the paint look even when you paint. Avoid strong brush or roller pressure while painting. If you push too hard, the paint will leach out.
Make Sure to Hide the Lines Where Two Things Are Joined Together
When you paint over wallpaper, it's important to cover the seams. If you do this, your walls will look smooth and nice, as if they never had wallpaper. Here are five things to remember when covering the seams:
Use a special compound or a special paste to fill any spaces or cracks along the lines where the wallpaper meets. Use a putty knife to make it smooth and even.
After the filler is dry, use sandpaper to gently rub away any rough areas until they become smooth, even with the rest of the wall.
Buy high-quality paint brushes with thin bristles. This will help you apply the paint accurately along the seams without making streaks or marks.
When you're covering seams, it's important to be patient! Go slowly, and be careful when you paint along the seams. Make sure it looks smooth and matches the rest of the wall.
Always Use a Beginner's Guide
When you paint over wallpaper, it's important to use a primer. A primer makes the surface smooth, so the paint sticks better. This makes your painted walls last longer. Here are five important things to remember when using a primer: There are different primers to choose from, like oil-based or water-based.
Clean the walls really well. Before putting on the primer, remove any dust, dirt, or grease from the wallpapered surface. This will help the first layer stick well and stop any extra stuff from messing up the final paint job.
Buy brushes or rollers that are made for priming surfaces and are of high quality. Doing this will ensure the application goes smoothly and there are no streaks or uneven coverage.
It's better to put on many thin coats instead of one thick coat of primer.
Check the manufacturer's instructions to know how long you should wait before painting over the primed walls. Being patient is really important here. If you rush this step, the layers might stick together poorly, and that could cause them to peel or crack later on.
Using a primer before painting over wallpaper is very important. It helps you achieve professional-looking results that last longer without sacrificing quality.
In the End
Painting could be a quicker and cheaper option instead of taking off and putting on new wallpaper. You can also consider modern wall panel for a lasting elegance in your place. For achieving a professional finish, it may take time and dedication, but it is possible with proper preparation and skill. Make sure to clean and fix any damage. Prepare the wallpaper for sticking, and use good paint for the best outcome. Use this method to change your walls and make your space more modern.