Ace Your Next Home Plumbing Challenge With These 5 Expert Tips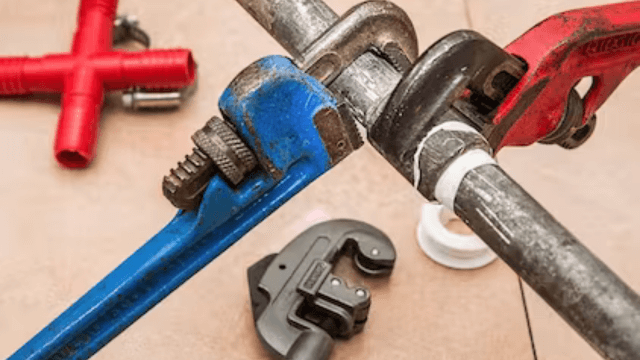 Plumbing issues are a common headache for homeowners, and it's no surprise why. From leaky faucets to clogged drains, there's never a shortage of problems that require the expertise of a plumber. But what if you could handle some of these plumbing challenges on your own? With the right knowledge and tools, you can save time and money by taking care of minor plumbing issues yourself. In this blog post, we'll share five expert tips to help you ace your next home plumbing challenge like a pro. Say goodbye to expensive plumber bills and hello to DIY success!
1) Understand Your Home's Plumbing System Basics
Understanding the basics of your home's plumbing system is essential for any homeowner. By familiarizing yourself with how the system works, you can quickly identify and address plumbing issues before they become major problems. So, let's dive in and explore the key components of your plumbing system.
First, you need to know about the water supply line. This is the main line that brings water into your home from the municipal water source. It is usually located underground and enters your house through the basement or crawl space.
Next, let's talk about the drainage system. This system is responsible for removing wastewater from your home. It consists of a network of pipes that carry waste from your sinks, toilets, showers, and appliances to the main sewer line.
Now, let's move on to the fixtures. These are the various plumbing devices in your home, such as sinks, toilets, showers, and tubs. Each fixture has its own set of supply and drainage pipes connected to the main plumbing system.
Lastly, we have the vent system. This system ensures proper airflow and prevents sewer gases from entering your home. Vents are typically located on the roof and allow air to enter the drainage system, facilitating smooth flow and preventing clogs.
By understanding these basics, you'll be better equipped to troubleshoot minor plumbing issues and communicate effectively with plumbers when necessary. Remember, knowledge is power, and when it comes to your home's plumbing system, a little understanding can go a long way.
2) Routine Inspections: A Non-negotiable for Optimal Plumbing
Maintaining a healthy plumbing system is crucial to preventing major issues down the line. That's why routine inspections are a non-negotiable for optimal plumbing. By regularly checking your plumbing, you can catch minor problems before they escalate into costly repairs.
During a routine inspection, start by checking for any visible leaks. Look for drips or puddles around your faucets, toilets, and under sinks. These small leaks may seem insignificant, but over time they can cause water damage and mold growth.
Next, inspect your pipes for any signs of corrosion or rust. These can indicate a potential issue that needs to be addressed. Pay close attention to joints and connections, as these are common areas for leaks to occur.
Don't forget to check your water pressure. Low water pressure can be a sign of a clog or other underlying issue. You can test the water pressure by filling a bucket with water and timing how long it takes to fill. If it's taking longer than usual, there may be a problem with your pipes or valves.
Lastly, inspect your drains for any signs of clogs. Slow-draining sinks or toilets can indicate a blockage that needs to be cleared. Regularly cleaning out debris and hair from your drains can help prevent clogs from forming.
By making routine inspections a regular part of your maintenance routine, you can catch and address minor plumbing issues before they become major headaches. Remember, prevention is key when it comes to maintaining a healthy plumbing system.
3) DIY Maintenance Tips to Keep Your Plumbing in Top Shape
Keeping your plumbing in top shape doesn't have to be a daunting task. With a few simple maintenance tips, you can prevent costly repairs and ensure your plumbing system works efficiently for years to come.
First and foremost, always be mindful of what goes down your drains. Avoid pouring grease, oil, or coffee grounds down the sink, as these can clog your pipes and cause backups. Similarly, use a drain strainer to catch hair and other debris in your bathroom drains.
Regularly cleaning your faucets and showerheads is another important maintenance tip. Over time, mineral deposits can build up and reduce water flow. To remove these deposits, soak your faucets and showerheads in a mixture of vinegar and water. This will help restore water pressure and improve the overall performance of your plumbing fixtures.
In addition, make it a habit to regularly check and replace the washers in your faucets. A worn-out washer can cause leaks, wasting water and driving up your utility bills. By replacing the washer at the first sign of a leak, you can prevent further damage and save money in the long run.
Finally, don't forget about your water heater. Flushing the tank annually helps remove sediment buildup and prolongs the lifespan of your water heater. Simply attach a hose to the drain valve and let the water flow until it runs clear. This simple maintenance task can improve the efficiency of your water heater and prevent costly repairs down the line.
By following these DIY maintenance tips, you can keep your plumbing in top shape and avoid major plumbing disasters. Remember, a little preventive maintenance goes a long way when it comes to your home's plumbing system.
4) When to Call in a Professional: Recognizing the Signs
While DIY plumbing can save you time and money, there are certain situations where it's best to call in a professional. Recognizing the signs that indicate a need for professional help can prevent further damage and ensure the problem is fixed correctly. Here are some signs that it's time to pick up the phone and dial a plumber.
First, persistent and recurring plumbing issues are a clear indicator that you need professional assistance. If you've tried multiple DIY solutions and the problem keeps coming back, it's time to let an expert take over. They have the knowledge and experience to diagnose the root cause of the problem and provide a long-lasting solution.
Second, any plumbing problem that involves the main water supply line or sewer line should be left to professionals. These issues are often complex and require specialized tools and expertise to repair. Attempting to fix them yourself could result in further damage to your plumbing system or even to your home's foundation.
Third, if you're experiencing multiple plumbing issues throughout your home simultaneously, it could be a sign of a larger underlying problem. This could indicate a problem with your main plumbing system that requires professional attention.
Lastly, if you're uncomfortable or unsure about tackling a plumbing problem on your own, it's always best to call in a professional. Plumbing can be complex, and attempting to fix something without the necessary knowledge or experience can lead to costly mistakes.
Remember, while DIY plumbing can be rewarding and cost-effective, there are times when it's best to leave it to the professionals. Knowing when to call in a professional will ensure that your plumbing issues are resolved efficiently and effectively, giving you peace of mind and avoiding any further damage.
5) Making Plumbing Friendly Lifestyle Choices
When it comes to maintaining a healthy plumbing system, your daily lifestyle choices can have a significant impact. By making a few simple changes, you can prevent plumbing issues and promote the longevity of your system.
First and foremost, be mindful of what you flush down the toilet. Only toilet paper should be flushed, and anything else, such as paper towels or wipes, should be disposed of in the trash. These items can cause clogs and backups in your plumbing system.
In the kitchen, avoid pouring cooking grease or oil down the sink. Instead, let it cool and dispose of it in a sealed container. Grease and oil can solidify in your pipes, leading to blockages and unpleasant odors.
Another plumbing-friendly choice is to install water-efficient fixtures and appliances. Low-flow toilets, showerheads, and faucets can help reduce water usage and lower your water bills. Additionally, consider using a dishwasher instead of handwashing dishes, as dishwashers generally use less water.
Finally, be mindful of what you put down your garbage disposal. Avoid disposing of fibrous foods, such as celery or corn husks, as they can wrap around the blades and cause damage. Also, avoid putting starchy foods, like pasta or rice, down the disposal, as they can expand and clog the pipes.
By making these simple lifestyle choices, you can contribute to a healthy plumbing system and avoid costly repairs in the future. Remember, small changes can make a big difference when it comes to your home's plumbing. If you need a plumber in Noblesville, check out Coopers.