The Shearling Vest Trend: How to Rock It in Style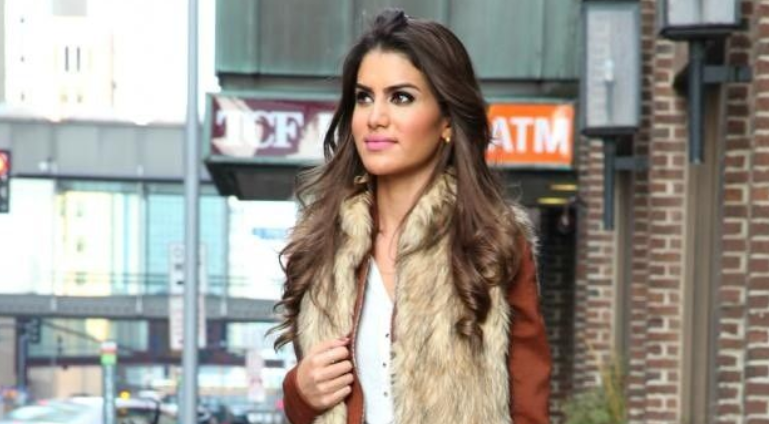 Introduction to Shearling Vests:

Women Shearling vests are a fashion trend that has taken the world by storm, offering both style and warmth. These vests are a fashion-forward choice for individuals seeking a cozy and fashionable addition to their wardrobe. But what exactly are shearling vests, and why have they become a trend in the world of fashion?
A shearling vest is a sleeveless garment typically made from the hide of sheep, lambs, or goats, with the wool still attached to the inner side. This unique construction creates a luxurious, soft, and insulating texture that is perfect for keeping warm in cold weather while making a stylish statement.
History of Shearling:
The history of shearling fashion dates back centuries, with its origins rooted in the practicality and comfort it offered to people living in cold climates. Shearling was first used by indigenous people in regions with harsh winters, where staying warm was essential for survival. Over time, shearling found its way into various cultures and was prized for its exceptional insulation properties.

In the 20th century, shearling became a symbol of luxury and style. It gained popularity in aviation fashion during World War II when bomber pilots wore shearling-lined flight jackets to keep warm at high altitudes. This association with aviation further cemented shearling's reputation as a fashionable and functional material.
Shearling Vest Styles:
Shearling vests come in a wide range of styles, making them a versatile addition to any wardrobe. Here are some of the most popular shearling vest styles:

Classic Shearling Vest: This style features a timeless design with a simple, sleeveless silhouette and a full shearling lining. It's perfect for achieving a classic and sophisticated look.

Biker Shearling Vest: Inspired by motorcycle culture, biker shearling vests often have a rugged appearance with metal hardware and edgy details. They add a touch of rebelliousness to your outfit.

Boho Shearling Vest: Boho shearling vests often feature fringes, embroidery, and earthy tones, making them a great choice for a bohemian or festival-inspired look.

Modern Shearling Vest: Contemporary shearling vests may come in cropped or oversized styles, and they often experiment with colors and textures. These vests are perfect for those who want to make a bold fashion statement.

The choice of shearling vest style depends on your personal taste and the occasion. Classic styles are versatile and suitable for a wide range of settings, while more specialized styles can add a unique flair to your outfit.
Choosing the Right Shearling Vest:
Selecting the perfect shearling vest involves considering several factors:

Body Type: Choose a shearling vest that complements your body shape. For example, if you have a petite frame, opt for a fitted style, while an oversized vest can work well for those with a larger build.

Personal Style: Your personal fashion preferences play a significant role. Classic styles are timeless and go well with a variety of outfits, while modern or biker vests are edgier choices for those who want to make a bold statement.

Climate: Consider your local climate. If you live in a region with harsh winters, you may want a shearling vest with a thicker lining, while those in milder climates can opt for lighter options.

Color Palette: Think about your existing wardrobe and choose a shearling vest color that complements your clothing. Neutral shades like black, brown, and cream are versatile choices.

Quality: Invest in a high-quality shearling vest to ensure durability and long-lasting style. Check the stitching, shearling quality, and overall craftsmanship.
Layering with Shearling Vests:
Shearling vests are incredibly versatile and make excellent layering pieces in your wardrobe, whether you're dressing for cold weather or looking to add a stylish touch to your outfit. Here's how you can effectively layer with shearling vests:

Casual Layering: For a casual look, pair your shearling vest with a basic long-sleeve tee or a lightweight sweater. This adds an extra layer of warmth without making you feel bulky.

Dressy Layering: Shearling vests can also be dressed up for more formal occasions. Wear one over a tailored blouse or a chic turtleneck sweater for a sophisticated ensemble.

Denim and Shearling: One of the classic ways to style a shearling vest is by layering it over a denim jacket or a denim shirt. This rugged combination is both fashionable and functional.

Leather and Shearling: Pairing your shearling vest with a leather jacket or leather pants can create a striking contrast between textures and give your outfit an edgy vibe.

Dresses and Skirts: Don't hesitate to layer a shearling vest womens over a dress or skirt. It can add a cozy touch to your feminine attire while keeping you warm in cooler weather.

Mix and Match: Experiment with different textures and fabrics when layering with shearling vests. For instance, try combining it with suede, wool, or knits for an interesting textural contrast.
Pairing with Outfits:
When it comes to pairing shearling vests with outfits, the possibilities are endless. Here are some fashion inspirations for different occasions:

Everyday Casual: Pair your shearling vest with jeans, a basic tee, and ankle boots for a comfortable yet stylish everyday look.

Office Chic: Opt for a tailored shearling vest and pair it with slacks, a blouse, and pumps for a polished office ensemble.

Weekend Getaway: Combine your shearling vest with a cozy sweater, leggings, and knee-high boots for a relaxed weekend getaway outfit.

Date Night: Create a romantic look by wearing your vest over a flowy dress, tights, and heeled ankle boots.

Festival Vibes: For a boho festival outfit, layer your shearling vest over a graphic tee, distressed denim shorts, and fringe boots.

Outdoor Adventure: If you're heading for an outdoor adventure, wear your shearling vest over a flannel shirt, hiking pants, and sturdy hiking boots.

Accessorizing:
Accessorizing is the key to elevating your shearling vest look:

Boots: Pair your shearling vest with knee-high boots, combat boots, or ankle boots for a trendy and functional combination.

Scarves: Add a pop of color and extra warmth by wrapping a cozy scarf around your neck when wearing your shearling vest.

Hats: A wide-brimmed hat or a beanie can complement your shearling vest and add a touch of style to your outfit.

Gloves: Leather or knit gloves can complete the winter-ready look when combined with your shearling vest.

Belt: Consider adding a belt to cinch your waist when wearing an open-front shearling vest to create a more defined silhouette.


Color Choices:

When choosing the color of your shearling vest, consider your personal style and existing wardrobe:

Neutral Tones: Classic colors like black, brown, and cream are versatile and easy to pair with a wide range of outfits.

Bold Hues: If you want to make a statement, opt for shearling vests in bold colors like red, emerald green, or deep burgundy.

Two-Tone Styles: Some shearling vests come in two-tone designs, which can add visual interest and versatility to your wardrobe.

Prints and Patterns: For a unique look, explore shearling vests with animal prints or patterns, such as chevron or herringbone.

Seasonal Choices: Consider season-specific colors; lighter shades for spring and fall, and darker, richer tones for winter.

Caring for Shearling:

Proper care is essential to keep your shearling vest looking its best and ensure its longevity. Here are some maintenance tips and guidance to help you maintain your shearling vest:

Regular Cleaning: Brush your shearling vest regularly with a soft-bristle brush to remove dirt and dust. This prevents the wool from matting and keeps the vest looking fresh.

Spot Cleaning: If your shearling vest gets stained, address the issue promptly. Use a damp cloth and mild detergent to gently spot clean the affected area. Be sure to rinse thoroughly and allow it to air dry.

Avoid Moisture: Shearling can be sensitive to moisture. Avoid wearing your vest in heavy rain or snow, and store it in a cool, dry place. If it does get wet, allow it to air dry naturally, away from direct heat sources like radiators or heaters.

Storage: When not in use, store your shearling vest in a breathable garment bag or cover it with a cotton sheet. Avoid using plastic bags, as they can trap moisture.

Airing Out: Give your shearling vest some fresh air occasionally by hanging it outside in a shaded area. This helps eliminate odors and keeps the vest smelling pleasant.

Professional Cleaning: For a thorough cleaning, consider taking your shearling vest to a professional cleaner experienced in handling shearling and leather garments. They can clean and condition it to maintain its softness.

Avoid Perfumes and Lotions: Be cautious when applying perfumes, lotions, or makeup while wearing your shearling vest, as these substances can stain or damage the material.

Storage During Off-Season: If you won't be wearing your shearling vest for an extended period, store it properly in a cool, dry place. You can also consider using cedar shoe trees or sachets to help absorb moisture and keep pests away.

By following these care guidelines, you can ensure that your shearling vest remains in excellent condition and continues to be a stylish addition to your wardrobe for years to come.

Celebrities and Influencers:

Celebrities and fashion influencers have played a significant role in popularizing the shearling vest trend. Many style icons have been spotted wearing shearling vests in various ways, inspiring fashion enthusiasts worldwide. Here are a few celebrities and influencers who have embraced the trend:

Kate Moss: The iconic supermodel Kate Moss has been photographed wearing shearling vests with effortless elegance, often pairing them with skinny jeans and ankle boots for a chic, laid-back look.

Gigi Hadid: Gigi Hadid, a prominent figure in the fashion industry, has been seen rocking shearling vests both on and off the runway. Her styling choices often include layering shearling vests over oversized sweaters or dresses.

Harry Styles: The musician and style icon Harry Styles is known for pushing fashion boundaries. He's been spotted wearing shearling vests as part of his eclectic and androgynous style, combining them with flared trousers and statement accessories.

Instagram Influencers: On social media platforms like Instagram, numerous fashion influencers have shared their unique interpretations of the shearling vest trend. These influencers provide valuable inspiration for how to incorporate shearling vests into everyday style.

To gain inspiration from these celebrities and influencers, consider following their fashion choices on social media or browsing fashion magazines for images of their shearling vest looks. Keep in mind that shearling vests can be adapted to suit various styles, from casual and bohemian to edgy and sophisticated, making them a versatile and on-trend addition to any wardrobe