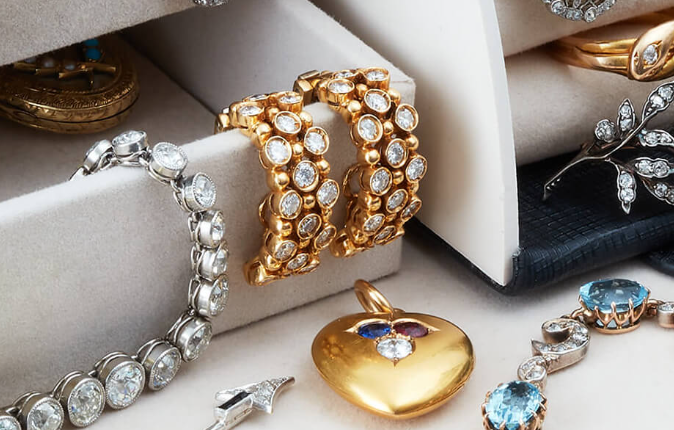 Vintage jewelry is a great way to add a bit of drama to your outfit. You can find these pieces at flea markets, antique shops, and estate sales. Be sure to note the era it was created in. Avoid sellers who use phrases like "vintage inspired" or "edwardian style."
Checking the clasps on necklaces, bracelets and pins can help determine its age. Also pay attention to the type of gold used.
Materials
When buying Vintage Jewellery, it is important to understand the materials used. Different metals are used in different eras and the exact alloys can help you verify that your piece is truly vintage. In addition, the precision of a gemstone cut can also point to its age. Older cuts tend to have less symmetry, and the edges of the facets may show signs of wear.
Other signs of authenticity include the hallmark and the clasp style. Hallmarks are government-issued symbols that provide clues about a piece's origins. The clasp style can also indicate a vintage jewelry piece, as different styles were used throughout the years. For example, a spring ring or hook clasp indicates that the piece is vintage.
Other materials to look for include camphor glass, which was a popular material in the 1800s and is a type of frosted glass. Another indicator of a vintage piece is its use of filigree. The individualized design that goes into vintage jewellery is one of the reasons it is so valuable. It is also a more sustainable way to accessorize, as it requires no new materials or mining.
Styles
When it comes to vintage jewellery, there are a variety of styles. Some are more common than others, though. For example, the Art Deco era of jewelry featured geometric inspired designs. This era also brought back color into the palette. Other popular vintage styles include bow or flower brooches, convertible jewelry and patriotic themes.
Vintage jewelry refers to second-hand pieces that are over 20 years old but not older than 100 years. It also includes pieces that borrow style elements from the Victorian, Edwardian and Art Nouveau eras. Examples of vintage jewelry include Hollywood-inspired 1940s pieces, Retro-era pieces and Jackie Kennedy-inspired pieces from the 1960s.
Authentic vintage jewelry will have different markings, such as the stamp inside a ring or near the clasp of a necklace or bracelet. These markings indicate the piece's designer and maker, and can help you verify its authenticity. Vintage pieces also may not have the same level of precision as modern jewelry, but that can add to their charm.
Authenticity
When buying vintage jewellery, it's important to authenticate the piece. It can help you make the right buying decisions and get the most out of your investment. If you want to sell your pieces, a professional jewellery buyer can help you appraise them and ensure that they're worth what you think they are.
Authenticating vintage jewelry involves looking at the materials and era it came from. You can do this by examining the underside of the piece. If there's a hallmark on the back, it was likely made in a specific era and has a higher value. The cut of the gemstones can also identify a specific era.
For example, a ring from the Retro period of the 1940s and 50s may have a Hollywood flavor and be very valuable. The same is true for Jackie Kennedy-inspired rings from the 1960s and hippie styles from the 1970s. Also, look for any markings that indicate a particular designer.
Cost
Identifying jewelry as vintage or antique can give you an idea of its value, but it's not necessarily the most accurate way to judge. For example, knowing that a wine is white doesn't tell you much about its taste or quality.
The era of the piece and its condition are also important factors. In general, jewelry from older eras is more valuable than pieces from later periods. This is because older jewellery was often created as one-of-a-kind pieces for a specific client, making it hard to replicate.
Many people are drawn to vintage jewellery because of its history. However, they can feel hesitant to sell it to someone else because of the sentimental attachment. This is why it's important to educate yourself about vintage jewellery so you can make an informed decision. Getting your pieces appraised by a professional can help you avoid scams and get the most out of your money. These services typically cost a small fee and can be found online.