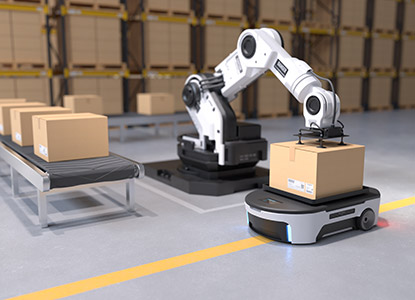 Welcome to the world of AMR technology – a game-changer that is revolutionizing industries and transforming our lives at an astonishing pace. Whether you've just heard about it or are already familiar with its charms, this blog post aims to dive deep into understanding what exactly AMR technology is all about. Hold on tight as we embark on an exhilarating journey through the inner workings, mind-boggling applications, and exciting prospects of this captivating innovation. Get ready to be amazed by the wonders of AMR technology!
The History of AMR Technology
The history of AMR technology traces back to the mid-20th century when manual meter reading was the standard practice. Utility companies struggled with the challenges of accurately collecting data from widely dispersed meters. This labor-intensive process involved sending out meter readers, leading to errors and delays.
In the 1970s, the introduction of computer technology prompted utility companies to explore automated meter reading solutions. The first AMR systems emerged in the 1980s, employing methods like magnetic tape storage and handheld devices for remote meter reading. Significant advancements occurred in the late 1990s with the adoption of wireless communication technologies such as radio frequency (RF) and cellular networks.
This enabled real-time transmission of meter data without physical access to individual meters. The evolution of AMR technology continued, incorporating improvements in communication protocols, data encryption, and integration with smart grid infrastructure. Today, it is a crucial component of advanced metering infrastructure (AMI), streamlining operations and providing accurate billing information.
The journey of AMR technology showcases human ingenuity in overcoming challenges and embracing innovation. Through automation and the elimination of manual processes, this technology has revolutionized the monitoring of energy consumption and the efficient management of utility services.
How Does AMR Technology Work?
AMR technology, or Automatic Meter Reading, represents a groundbreaking system designed for the remote monitoring and gathering of meter data. So, how does this system operate? Let's delve into the details.
Smart meters, the specialized devices at the core of AMR technology, are installed in residences or commercial structures. These meters are equipped with sensors that gauge the consumption of utilities, ranging from electricity to water and gas.
The data collected by these smart meters is then wirelessly transmitted to a central data management system using diverse communication technologies like radio frequency or cellular networks. By eliminating manual meter readings, human error is reduced.
This capability empowers utility companies to precisely monitor usage patterns, detect potential issues like leaks or tampering, and optimize resource allocation accordingly.
AMR technology boasts two-way communication capabilities. This signifies that meters not only send readings to the central system but can also receive remote commands. For example, during peak energy demand hours, utility providers can remotely adjust power supply levels to stabilize the grid.
Beyond its primary role in efficient and accurate meter data collection, AMR technology opens doors to advanced applications such as demand response programs. This allows consumers to actively manage their energy consumption based on pricing signals from utilities.
Applications of AMR Technology
Application #1: Smart Energy Management
Smart energy management, facilitated by AMR technology, addresses the growing demand for energy efficiency and sustainability in both residential and commercial settings. The real-time monitoring and data collection capabilities of AMR technology enable users to analyze energy consumption patterns, identify inefficiencies, and optimize usage for improved sustainability. A key advantage of AMR technology in smart energy management lies in its provision of accurate and timely data.
Unlike traditional meter reading methods prone to human error, AMR technology automates readings at regular intervals, eliminating manual interventions. Moreover, AMR systems support two-way communication between utility providers and consumers. This allows utilities to remotely control electricity usage during peak demand or offer incentives for consumption reduction.
Application #2: Water Metering
Water metering has transformed with the integration of AMR technology, revolutionizing the monitoring and management of water consumption. The inefficiencies and inaccuracies associated with traditional manual meter readings are resolved with AMR. AMR-enabled water meters utilize wireless communication to transmit real-time data on water usage to utility companies.
This not only ensures more accurate billing based on actual consumption but also facilitates the prompt detection of leaks or unusual usage patterns, contributing to water conservation efforts. Beyond utility benefits, AMR technology empowers consumers by providing access to their water consumption data through online portals or mobile apps. This transparency enables individuals to monitor usage, make informed decisions, and contribute to water conservation.
In summary, the implementation of AMR technology in water metering brings a host of advantages, including improved accuracy, cost reduction, increased efficiency, and heightened consumer awareness. It plays a pivotal role in promoting sustainable water resource management while ensuring fair and transparent billing practices for all users.
Application #3: Gas Metering
Gas metering has embraced AMR technology, leveraging advanced wireless communication for remote monitoring and management. Unlike traditional systems relying on manual readings, AMR technology allows for automated data collection, eliminating the need for manual interventions. With AMR-enabled gas meters, real-time and accurate data on gas usage is collected and transmitted wirelessly to a central system.
This facilitates more efficient monitoring of consumption patterns, enabling prompt identification of anomalies or leaks. The adoption of AMR technology in gas metering streamlines operations for utility providers, reducing reliance on physical inspections and manual readings. This not only improves operational efficiency but also enhances customer service by enabling timely billing based on actual gas usage.
In summary, the integration of AMR technology in gas metering offers benefits such as improved accuracy, increased efficiency in monitoring consumption trends, and heightened customer satisfaction.
Application #4: Utility Billing
AMR technology transforms utility billing, replacing manual meter readings with automated processes. Smart meters, equipped with AMR technology, transmit real-time energy consumption data wirelessly to utility companies, eliminating the need for manual readings and ensuring accurate and timely billing. This benefits both customers and utilities by providing more precise bills based on actual usage, improving fairness and operational efficiency.
The advantages of AMR technology extend beyond electricity to include monitoring water and gas usage for efficient billing. Remote monitoring capabilities enable the identification of energy consumption patterns over time, empowering both customers and utilities to make informed decisions about conservation efforts and load management. In summary, the integration of AMR technology into utility billing systems offers increased accuracy, operational efficiency, cost savings, and an enhanced customer service experience.
Application #5: Personal Fitness Monitoring
In today's fast-paced world, personal fitness monitoring has evolved through AMR technology, simplifying the tracking of health data. Devices like smartwatches collect information on metrics such as heart rate, distance traveled, sleep patterns, and stress levels. Syncing this data with mobile apps provides insights for informed decisions about physical activity and lifestyle.
AMR technology's real-time feedback offers personalized recommendations, encouraging users to take breaks and stretch during sedentary periods. This approach fosters accountability to health goals by promoting consistent movement. AMR-enabled devices also allow users to set personalized targets for daily steps or workout-related calorie burn, enhancing motivation and focus on individual fitness journeys.
While personal fitness monitoring with AMR technology has advantages, it has limitations, such as variations in accuracy for measurements like calorie counting. Despite these considerations, the overall benefits make AMR technology a valuable tool for individuals aiming to improve their well-being.
Advantages and Limitations of AMR Technology
AMR technology provides numerous benefits across various applications, notably by facilitating remote data collection, thereby eliminating the necessity for manual meter reading. This not only saves time and resources but also mitigates human errors inherent in manual readings.
Furthermore, AMR technology enables real-time monitoring and data analysis. Utility companies can scrutinize energy consumption patterns, identify anomalies like leaks, and make informed decisions regarding resource allocation.
Another advantage lies in the heightened accuracy of billing. AMR technology ensures precise and transparent meter readings, guaranteeing fair billing based on actual usage rather than estimates or averages.
Moreover, AMR systems foster improved customer engagement by offering timely access to consumption information. Customers can monitor their usage patterns and adjust behaviors to conserve energy or water.
Despite these advantages, there are limitations to consider with AMR technology. The initial cost of implementing the infrastructure required for remote data collection, including communication devices, may pose a financial challenge.
Additionally, compatibility issues between different types of meters can be a hurdle when integrating AMR systems across multiple utilities or locations.
Privacy concerns arise from the constant transmission of personal consumption data over wireless networks. Therefore, utility companies must establish robust security measures to safeguard customers' sensitive information.
Conclusion
In conclusion, AMR technology stands as a transformative force in the realms of energy management, utility billing, and personal health monitoring. Its journey from manual readings to advanced automation has empowered users to make informed decisions, reduce costs, and allocate resources effectively. Despite challenges, such as initial investments and technical issues, AMR's impact on industries is undeniable, fostering efficiency, cost savings, and environmental sustainability. As we embrace a future shaped by automation, the continued evolution of AMR promises further advancements and benefits across various sectors.