What is the Difference Between Die Casting vs Investment Casting?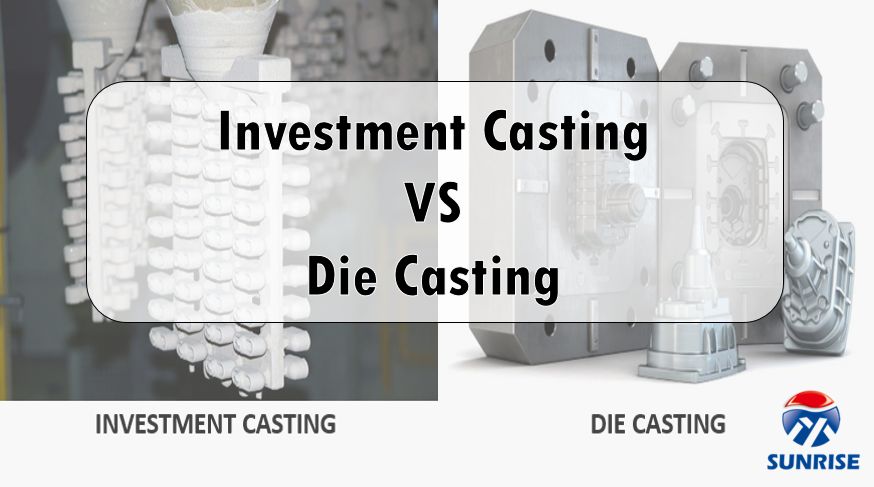 Are you curious about the fascinating world of metal casting? Look no further! In today's blog post, we will unravel the mystery behind two popular casting methods: die casting vs investment casting. While both techniques share similarities, they are far from being identical twins. Join us on this deep dive as we uncover the key differences, advantages, and applications of these remarkable processes.
Whether you're an aspiring engineer or simply a curious mind craving knowledge, this article is sure to captivate your interest and leave you with a newfound appreciation for the artistry behind creating complex metal components. Get ready to become an expert in die casting vs investment casting – let's embark on this eye-opening journey together!
What is Die Casting?
Die casting is a widely used manufacturing method for creating precise metal components by injecting molten metal into a specialized mold, offering exceptional accuracy and surface quality.
It's ideal for tight tolerances and intricate designs but works best with lower melting point metals like aluminum, zinc, and magnesium. Initial tooling costs can be high, but it's cost-effective for large-scale production, making it a precise and efficient choice, especially for mass production.
#1: Process and Materials Used
Die Casting: Die casting is a manufacturing process that involves injecting molten metal into a steel mold, known as a die. This mold is carefully designed to achieve the desired product shape, and high pressure is used to ensure precise filling of all details and cavities. A variety of metals, such as aluminum, zinc, magnesium, and copper alloys, can be used in die casting, offering a balance of strength, durability, and lightweight properties. Material selection is based on factors like cost, desired properties, and specific application needs.
Investment Casting: Investment casting is a distinct manufacturing process that begins with creating a wax pattern that replicates the intended part. This wax pattern is surrounded by multiple layers of ceramic slurry to form a shell. After the shell solidifies, the wax is melted and removed, creating an empty cavity known as the "lost wax" method.
Molten metal is then poured into this cavity to create the final part. Investment casting offers a wider range of material options compared to die casting, including stainless steel, carbon steel, titanium, and advanced materials like superalloys such as Inconel.
#2: Advantages and Disadvantages
When choosing between die casting vs investment casting, it's important to weigh their pros and cons:
Die casting offers rapid production, high precision, and excellent surface finishes for intricate parts in large quantities.
However, die casting can be expensive to set up, limiting its viability for small-scale or prototype projects, and design flexibility is somewhat restricted.
Investment casting allows for intricate shapes with fine details and thin walls, catering to both small and large production runs without substantial additional costs.
On the downside, investment casting has a longer production cycle due to multiple stages, including wax pattern and ceramic shell mold creation before metal pouring.
Understanding these factors helps make an informed decision tailored to your specific needs.
What is Investment Casting?
Investment casting, also known as lost-wax casting, involves creating a wax model encased in a ceramic mold. When heated, the wax melts, leaving a mold. Molten metal is then poured into the mold, forming the desired shape.
This method offers excellent surface finish and precision but is labor-intensive and costlier. It's commonly used in industries like aerospace and medical implants that require high precision.
#1: Process and Materials Used
Die Casting
Die casting is a manufacturing process that utilizes a metal mold or die, injecting molten metal under high pressure. It excels in producing complex shapes with exceptional dimensional precision and surface quality. Commonly used materials for die casting include aluminum, zinc, and magnesium alloys.
Investment Casting
Investment casting, also known as lost wax casting, relies on a wax pattern coated with a ceramic shell. After the shell hardens, wax is melted out of the mold cavity, and molten metal is poured in to create the final product. This method allows for intricate details and precise tolerances. Materials such as steel, stainless steel, and superalloys are frequently employed.
#2: Advantages and Disadvantages
When comparing die casting vs investment casting, it's important to consider their strengths and weaknesses:
Die casting offers high production rates, excellent dimensional precision, and superior surface finishes, making it suitable for large-scale manufacturing. However, it has limited design flexibility and can involve high initial setup costs.
Investment casting provides unparalleled design freedom for intricate shapes, making it ideal for detailed components. However, it typically involves lower production volumes and may require more post-machining or finishing.
Understanding these pros and cons helps manufacturers make informed decisions based on their specific requirements.
Key Differences Between Die Casting and Investment Casting
#1: Cost
Die casting is often considered more cost-effective than investment casting due to its efficiency in handling large production volumes. Specialized dies reduce labor costs and improve operational efficiency, while also minimizing material wastage. However, cost considerations can vary based on factors like part complexity and desired finishes.
In cases requiring precision or intricate geometries, die casting's higher initial tooling expenses may be balanced by long-term productivity savings. Careful evaluation of cost implications in line with project requirements is essential when choosing between these methods.
#2: Design Flexibility
When choosing between die casting vs investment casting, it's vital to consider design flexibility. These processes offer distinct advantages in design possibilities.
Die casting allows for intricate designs with complex shapes, precise tolerances, and sharp corners, thanks to high-pressure molding. It also accommodates features like thin walls, filets, and draft angles.
Investment casting offers even greater design flexibility. It excels at producing highly detailed and complex parts that may be challenging with other methods. Investment casting reproduces fine surface details, textures, and patterns, making it ideal for artistic or decorative components.
Die casting is excellent for intricate geometries, while investment casting excels in creating highly detailed components with fine surface finishes. The choice depends on your design needs and material requirements.
#3: Production Volume
Considering production volume is crucial when comparing die casting and investment casting. Die casting is efficient for high-volume production, with the ability to rapidly manufacture large quantities of parts due to its quick cycle times. Conversely, investment casting is better suited for lower to medium-volume production, although it may have longer production durations due to its intricate process.
Die-casting machines can produce hundreds or even thousands of parts per hour, making them ideal for industries like automotive or consumer electronics that require mass production. On the other hand, investment casting may be more appropriate for sectors such as aerospace or jewelry, where smaller batch sizes are the norm.
Your choice between die casting and investment casting should align with your intended production volume. It's essential to thoroughly assess your specific project needs and requirements before making a decision.
#4: Surface Finish
When deciding between die casting vs investment casting, surface finish is a significant factor to consider. Generally, die casting offers a superior surface finish due to its precise control over shape and texture. Investment casting can result in a rougher surface finish due to its more intricate process of creating a ceramic shell.
Your choice depends on your specific requirements. If you need highly detailed and smooth surfaces, die casting is likely the better option. Additionally, consider production volume and design flexibility, as these factors can also influence your decision between these two casting methods.
Real World Applications of Die Casting and Investment Casting
Both die casting vs investment casting have diverse applications across various industries:
Die Casting
Automotive Industry: Used extensively for producing engine parts, transmission components, and structural elements.
Aerospace Industry: Ideal for manufacturing aircraft components like turbine blades, brackets, and housings.
Electronics Industry: Commonly employed for casings, heat sinks, connectors, and intricate electronic components.
Investment Casting
Jewelry Making: A preferred method for crafting intricate and precise jewelry pieces such as rings, pendants, and earrings.
Dental Prosthetics: Essential for manufacturing precise dental appliances like crowns, bridges, and implants.
Artistic Sculptures: Widely used by artists to create detailed sculptures with fine textures.
Both casting methods offer unique advantages suited to specific project requirements. Die casting excels in the high-volume production of complex shapes while maintaining cost-effectiveness. In contrast, investment casting is ideal for crafting intricately designed objects with exceptional surface finishes.